Elimination successes
Many countries have eliminated the covid-19 virus from most or all of their territory, either completely or to very low levels such as 1 case per million population per day.
Examples include China, South Korea, New Zealand, Taiwan and Vietnam. People living in high incidence countries are often sceptical of these successes, so this page presents some of the evidence.
China
China has had extraordinary success in eliminating the covid-19 virus. Most of the regions of China report single figures of cases or no cases at all, with many of the cases being imported.
There have been some secondary outbreaks, but these have all been controlled.
Many people outside China suspect that the figures are too good to be true, but the picture that they paint seems to be broadly true, according to the evidence:
independent corroboration from journalists - e.g. the resumption of business conferences in Shanghai [1]
independent corroboration from blogs - e.g. Jason Lightfoot https://jasonlightfoot.us-channel.com
personal contacts with Chinese residents
an out-of-control epidemic is very hard to keep secret.
South Korea
South Korea "declared war" on the virus at an early stage and took radical action [2] [3], and deaths have been kept to about 70 per million population - a rate about 1% of the UK's.
Japan
See an account from two Japanese scientists [4]
Vietnam
Vietnam has reported a low number of cases of covid-19 [5][6]
Singapore
Singapore has got on top of its outbreak. According to one of the scientists at Singapore Health [7]: 94% of the cases were in the migrant worker dormitories.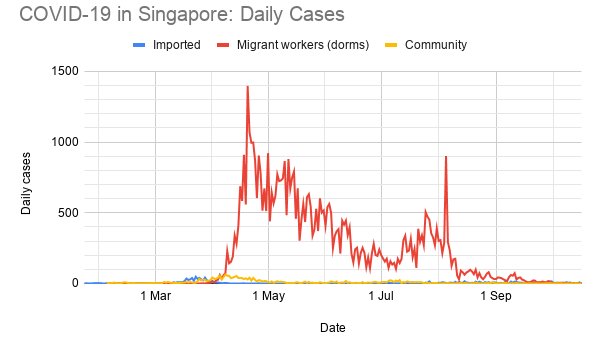 There is now (October 2020) routine mass testing in the dorms to prevent another large outbreak there.
In the community, "there was an 8-week circuit breaker in Apr-May. Afterwards: universal masking, rule of 5 for gatherings, Work From Home, ILI surveillance, no self-isolation (all centralized), aggressive tracing with app/tokens, strict quarantine + testing all close contacts. And schools are open." [7]
Mongolia
Good control of the epidemic in Mongolia has been reported [8].
References
First published: 20 Jul 2020
Last updated: 10 Nov 2020