Unspecified case location in 65% of UK cases
Public Health England is currently giving case location on only about one third of cases. The location for the other two-thirds is unspecified.

Public Health England (PHE) publishes data on the covid-19 epidemic each day on a web page [1].
The web page gives the total UK new cases, and a breakdown by the four nations (England, Scotland, Wales and Northern Ireland). It also gives a breakdown of the England total by region and by local authority.
The web page warns that the number of new cases "includes tests carried out by commercial partners which are not included in the 4 National totals". In fact the cases that are not included amount to around 65% of the total. This can be calculated from the day-to-day increases by adding the four nation figures, and subtracting this from the UK figure - see the appendix for the recent data.
It seems that the cases on which the location is unspecified are all of the "Pillar 2" tests, which are done by the labs run by the privatised testing service, and that these test results are not sent to the individual's GP or the local authority - see the
Health Service Journal
article [2].
Anecdotally, the swabs sent out for the Pillar 2 tests are sent with a form that asks for National Insurance number, but does not ask for NHS number [3]. This seems to be a major blunder - collation of patient results within the NHS depends on the NHS number.
The chart shows the variation over time in the relative proportions.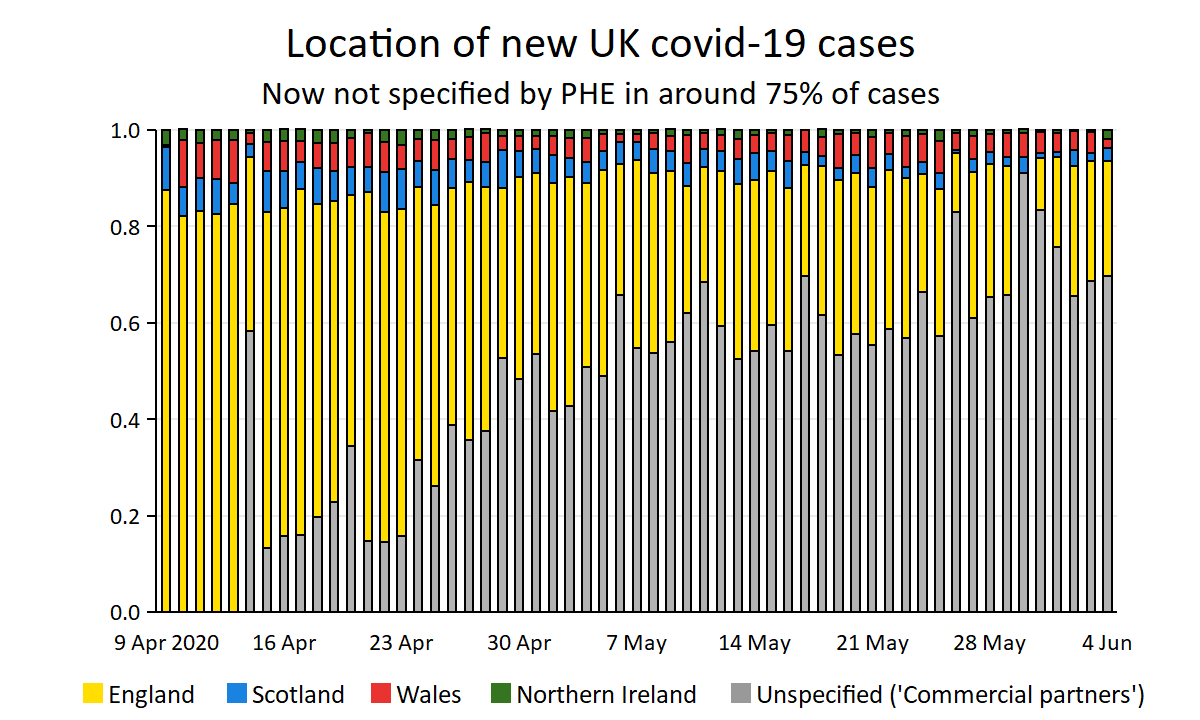 The second chart shows the actual numbers reported. It's worth remembering that only a fraction of cases are confirmed by testing, so the true numbers of cases is several times these figures.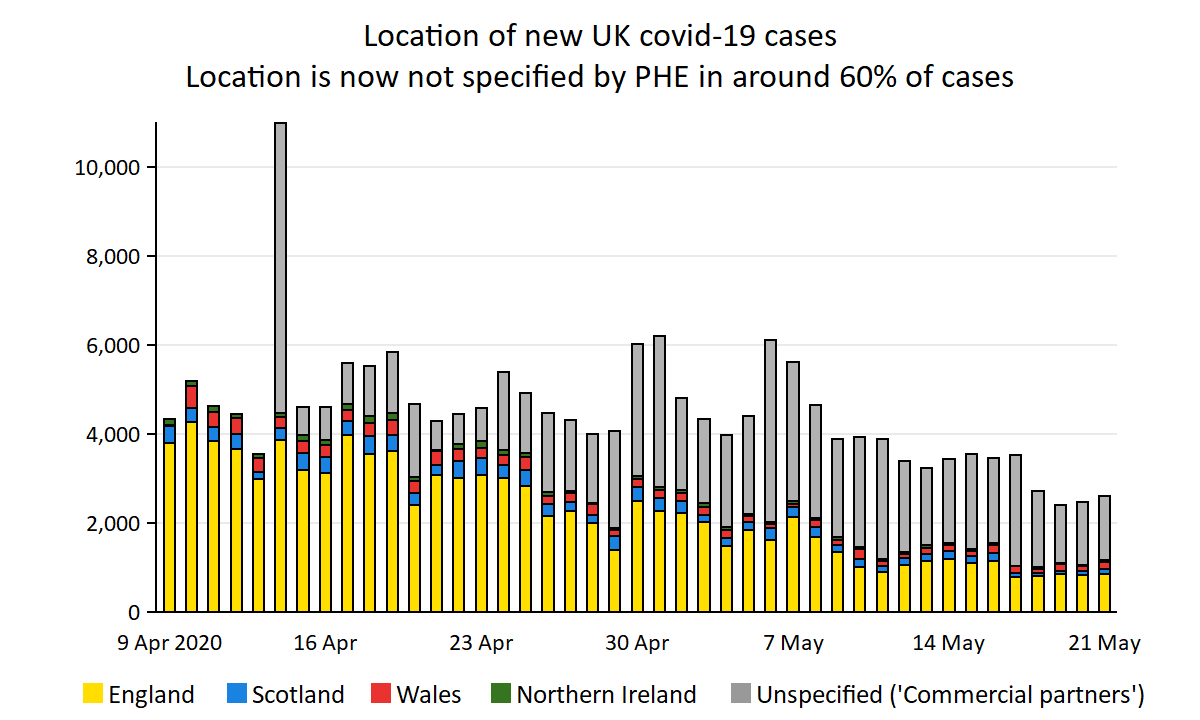 How can test-trace-isolate be planned without location information?
If PHE has the information, why isn't it published?
ReferencesAppendix
New cases of covid-19 in the UK reported by Public Health England. Numbers are obtained from the daily reports by subtraction of the previous day's figures.
| | | | | | | | |
| --- | --- | --- | --- | --- | --- | --- | --- |
| Date | Total UK | England | Scotland | Wales | Northern Ireland | Unspecified | Proportion unspecified |
| April 9 | 4344 | 3798 | 392 | 16 | 138 | 0 | 0% |
| 10 | 5195 | 4263 | 318 | 502 | 112 | 0 | 0% |
| 11 | 4623 | 3841 | 315 | 339 | 128 | 0 | 0% |
| 12 | 4450 | 3672 | 322 | 367 | 89 | 0 | 0% |
| 13 | 3543 | 2999 | 155 | 313 | 76 | 0 | 0% |
| 14 | 10714 | 3854 | 291 | 238 | 85 | 6246 | 58% |
| 15 | 4577 | 3188 | 390 | 270 | 121 | 608 | 13% |
| 16 | 4586 | 3118 | 354 | 283 | 113 | 718 | 16% |
| 17 | 5561 | 3985 | 307 | 244 | 137 | 888 | 16% |
| 18 | 5478 | 3548 | 411 | 291 | 148 | 1080 | 20% |
| 19 | 5793 | 3607 | 367 | 334 | 159 | 1326 | 23% |
| 20 | 4607 | 2401 | 263 | 276 | 83 | 1584 | 34% |
| 21 | 4274 | 3087 | 222 | 304 | 30 | 631 | 15% |
| 22 | 4423 | 3020 | 366 | 274 | 116 | 647 | 15% |
| 23 | 4552 | 3084 | 371 | 234 | 142 | 721 | 16% |
| 24 | 5314 | 3004 | 288 | 243 | 106 | 1673 | 31% |
| 25 | 4858 | 2826 | 354 | 299 | 104 | 1275 | 26% |
| 26 | 4389 | 2152 | 273 | 178 | 82 | 1704 | 39% |
| 27 | 4243 | 2264 | 197 | 202 | 66 | 1514 | 36% |
| 28 | 3932 | 1989 | 200 | 232 | 34 | 1477 | 38% |
| 29 | 3985 | 1403 | 313 | 117 | 55 | 2097 | 53% |
| 30 | 5909 | 2484 | 319 | 183 | 73 | 2850 | 48% |
| May 1 | 6061 | 2271 | 301 | 160 | 87 | 3242 | 53% |
| 2 | 4721 | 2228 | 273 | 183 | 66 | 1971 | 42% |
| 3 | 4260 | 2019 | 170 | 174 | 78 | 1819 | 43% |
| 4 | 3899 | 1485 | 169 | 195 | 69 | 1981 | 51% |
| 5 | 4315 | 1842 | 171 | 145 | 45 | 2112 | 49% |
| 6 | 5942 | 1611 | 272 | 95 | 53 | 3911 | 66% |
| 7 | 5484 | 2133 | 215 | 87 | 50 | 2999 | 55% |
| 8 | 4544 | 1694 | 225 | 152 | 38 | 2435 | 54% |
| 9 | 3804 | 1349 | 156 | 118 | 56 | 2125 | 56% |
| 10 | 3820 | 1007 | 181 | 223 | 41 | 2368 | 62% |
| 11 | 3765 | 891 | 141 | 124 | 30 | 2579 | 69% |
| 12 | 3318 | 1067 | 136 | 105 | 44 | 1966 | 59% |
| 13 | 3170 | 1146 | 166 | 133 | 60 | 1665 | 53% |
| 14 | 3367 | 1189 | 188 | 128 | 38 | 1824 | 54% |
| 15 | 3471 | 1112 | 143 | 126 | 26 | 2064 | 59% |
| 16 | 3371 | 1136 | 187 | 182 | 40 | 1826 | 54% |
| 17 | 3430 | 788 | 90 | 162 | 0 | 2390 | 70% |
| 18 | 2641 | 816 | 57 | 100 | 44 | 1624 | 61% |
| 19 | 2358 | 857 | 61 | 166 | 20 | 1254 | 53% |
| 20 | 2472 | 824 | 96 | 110 | 18 | 1424 | 58% |
| 21 | 2615 | 854 | 105 | 166 | 42 | 1448 | 55% |
| 22 | 3287 | 1083 | 113 | 138 | 23 | 1930 | 59% |
| 23 | 2959 | 979 | 72 | 185 | 41 | 1682 | 57% |
| 24 | 2405 | 584 | 60 | 140 | 25 | 1596 | 66% |
| 25 | 1625 | 494 | 55 | 106 | 39 | 931 | 57% |
| 26 | 4043 | 492 | 29 | 141 | 28 | 3353 | 83% |
| 27 | 2013 | 609 | 55 | 97 | 26 | 1226 | 61% |
| 28 | 1887 | 519 | 48 | 72 | 16 | 1232 | 65% |
First published: 22 May 2020
Last updated: 30 May 2020